How to GoSHIFT: upload and group jobs (with auto-grouping)
If you are reading this article, we presume that you know how to create a shift under GoSHIFT already. If you are still unsure, please follow this article to create a shift.
Secondly, if you are using a spreadsheet to upload your jobs, please make sure the sheet format matches exactly with this template. All columns must be in the correct order. The columns with "*" are the mandatory fields. Column "Item type" field is a selector field. The available options can be found in "Sheet2" of the template.
Uploading Jobs
If you are not API integrated with Go People, bulk upload is the best way to book multiple jobs in one go. If you are keen on using our Shopify, WooCommerce, Squarespace or plugin, please follow the links.
Clicking on the "Upload jobs" button.
You can upload as many jobs as you want at any time. You can do this using an Excel spreadsheet (saved in the .xlsx format), and is Go People's suggested method of uploading.
Similar to booking a Shift, you'll be asked from what store you want to book Shifts and what Shift you want to upload the Jobs (useful if you have more than 1 Shift booked.
In Step 3, you upload your Excel sheet.
Note: You must use our template or our system will not recognise the addresses. You can download the template by clicking on the link at the top of the below page: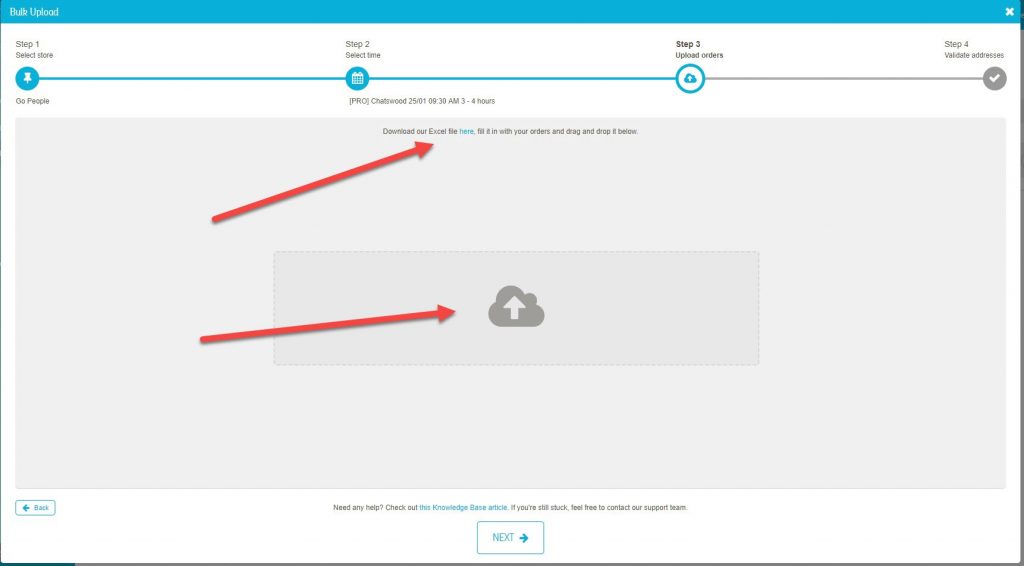 In Step 4, you will be able to fix any address errors. For more detail on this part of the process, please read how to fix address errors.
Grouping - with auto-grouping
After you've uploaded your jobs, you can then start making runs for your jobs. You can simply click on the "Create runs" button to do so.
If you know how many drivers you would like to use, click on the "By Runs" tab and choose the number of runs to break the jobs into. If you are unsure about the number of drivers, click on the "By Hours" tab, and choose how long you would like the runs to be.
This process may take seconds or up to quite a few minutes depending on the number of jobs. You can go away and get on with your day. Once completed, you will be notified. You can come back and review the runs by clicking on the "View details" button.
You can also download the manifest by clicking on the "More actions" of the shift and then the "Download manifest" button.
Review the details on the runs. The most important is the EWT (estimated work time). You can review the quote/cost of the run by clicking on the "Fee estimates" button.
This is it. You have not hired enough Runners. You can go ahead and hire more Runners. Here is how to hire more Runners.
Did this answer your question?
Thanks so much for your feedback!
%s of people found this helpful.