How to: use a Take button and get it back again if You Lose It
The 'Take' button in the Runner's App lets you Take a job instead of Applying for it. When you Take a job, you are automatically assigned the job. You can lose your 'Take' button if you don't keep your rating up. This article will explain how to use your 'Take' button, and how to get it back again in the unfortunate case that you lose it.
HOW THE 'TAKE' BUTTON WORKS
When you first start working as a Runner, the 'Take' button will display a '(2)' next to it in brackets. This means you automatically get to Take 2 jobs without Applying and being assigned first. This is our way of getting you on the road to show us how good you are! Of course, you can still Apply for other jobs and shifts.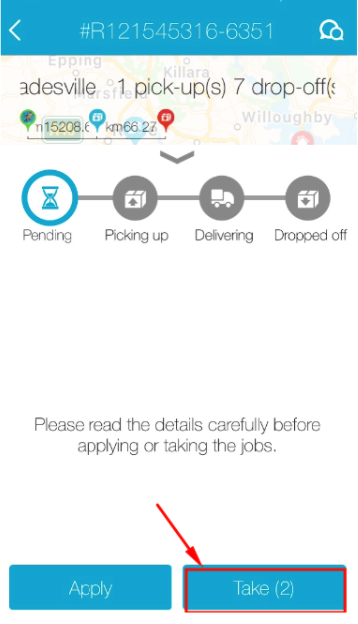 If you complete all your jobs on time with a good rating, your ability to 'Take' more jobs at one time will increase and you will receive a notification like, "The maximum number of jobs you can Take now is (30)".
A 'TAKE' BUTTON MAY NOT WORK BECAUSE…
Sometimes, you won't be able to Take a job. Here are some possible reasons why:
Your vehicle is not big enough to transport the parcel(s)
You are already working as a Shift Runner
You are already working too many jobs, and GoPeople doesn't believe you can complete the job in time
WHY YOU LOST YOUR 'TAKE' BUTTON, AND HOW TO GET IT BACK
You might have lost your 'Takes' and see (0) next to it.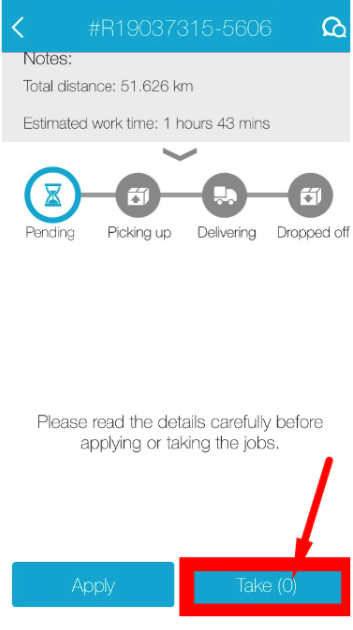 This is because you received a negative review, or you haven't worked for GoPeople for more than a month. All you have to do is to complete ten (10) new jobs, with a good rating to get your 2 'Takes' back. This can easily earn back by completing a Shift. You can find out your rating in the 'Profile' tab of your Account.
Did this answer your question?
Thanks so much for your feedback!
%s of people found this helpful.