How to: track a delivery
Go People has world class tracking feature. Both yourself as a Sender and your customers will be able to live track the deliveries all the way through.
Recipients can use our tracking map, in order to keep updated with their Runner's real time location. By default, your customer will receive SMS or email with their job's tracking link after the job is picked up. There are other SMS's can be sent which you can learn and manage the SMS settings here.
In order to have the customers to receive the communication, please make sure customer details are entered in the 'Drop-off' section when booking a job.

What if the recipient said they didn't receive the tracking link?
SMS can be resent to the recipient if they have missed it. Please follow this article which shows you how this can be done.
You can also share the tracking link manually by following the steps below.
Go into the 'Jobs' page from the left nav. Find the job that you would like to track.
Click on the blue link, and that'll take you to tracking page for that job: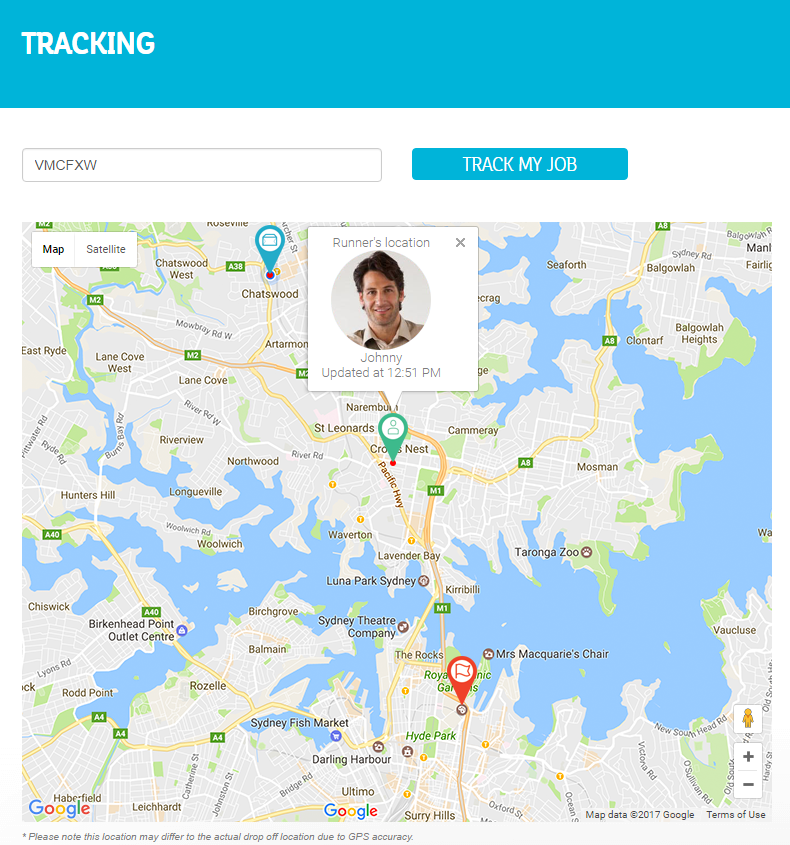 Notice how it says in the box, "VMCFXW". This is also what the URL should say:

Now, all you have to do is to share this link to your Recipient and they will be able to see their delivery in progress!
Preview and manage your tracking page template
You as a Sender can now preview and update tracking pages from the settings page.
Login to the Member's Dashboard then go to "Settings" from the left nav, and click on "Live Tracking Templates".
Make your modifications then click on save. Please note, customizing the tracking page is only available to annualised Silver members or above.
Did this answer your question?
Thanks so much for your feedback!
%s of people found this helpful.